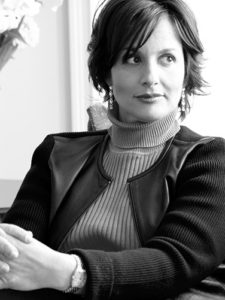 Amanda Strauss is the energy and vision behind Amanda Strauss and Associates. She brings a unique perspective from richly diverse life experiences and training in the classics to her work. She earned a Bachelors in Business Administration, more about then with a solid business background behind her, mind pursued her real passion. After attending the University of Paris Sorbonne to study Art History she apprenticed in international architecture. Amanda's training in decor and architecture didn't stay in the delicate confines of the studio.
She learned of the direct connection between gritty hard work and achieving excellence. She knows how to crawl through basements, "coupling" plumbing pipes and "home running" electrical wiring to the panel, without overloading circuits. Her experience working alongside the subcontractors and her natural ability to look at one-dimensional plans and visualize three dimensional rooms earns her the respect of contractors when representing clients interests during construction.
Having grown up in Montreal, Connecticut, Palm Beach and Monaco, Amanda understands that fine things are agents for creating beautiful, personal and comfortable environments. She has a gift for translating dreams into realities.
She has a gift for listening to people to understand what they like and what makes them happy. Amanda removes the complexity and drudgery from creating a home to provide a winning experience for her clients and their families.
Contact Us – (860) 409-2172 – info@amandastraussdesigns.com